7 Days Vercors natural park on snowshoes
Refuge du plateau de Gève en hiver
7 Days Self-Guided Vercors natural park on snowshoes
Self-Guided tour – Carry only your small bag with daily things & picnic
France
Level: Easy – Moderate
Season: Jan – Mar 2022
Days: 7 
Cost: from S$ 1,158
A great classic of Vercors on snowshoe version!
Here you will find beautiful crossing, very natural, in a hyper preserved setting and a relief of high plateaus and medium mountains. From the village of Méaudre framed by its beautiful pine forests to the village of Lans-en-Vercors (gateway to the Vercors natural park), you will discover one of the most beautiful and varied snowshoeing terrain in France: ridges , valleys, villages, high desert plateaus …
The fauna is rich here, and sheltered in the large forests of the massif, it does not leave many traces that we will be keen to discover.
Day 1 Arrival Méaudre (D O/N 2 * hotel) 
Welcome at your hotel in Méaudre , a small village in Vercors. Possible for a Short walk to warm up in the afternoon for snowshoe testing!. Dinner and night in a 2 * hotel in Méaudre.
Day 2 Méaudre – Autrans (BD O/N 3 * hotel) [4-6 hrs, +300m, -300m]
Cross the hills of Claret which separate the 2 villages and culminate at the top of the Olympic springboards dominating Autrans. It is possible, depending on the weather and the snow, to lengthen the route by discovering the hamlets located to the west of Autrans: Le Bouchet, Le Truc, Villeneuve, as many small hamlets with typical farms linked together.
Dinner and overnight in a 3 * hotel.
Day 3 Autrans – Plateau de Gève (BD O/N 3 * hotel) [4-6 hrs, +300-600m, -300-600m]
Explore the immense Autrans domain and its snowiest Gève plateau in the whole of Vercors at the same altitude. Perhaps you will have time to go to the edge of the cliffs, at the Pas de la Clé, from which you overlook the Isère valley from nearly 1,500 m.
Dinner and overnight in a 3 * hotel.
Day 4 Autrans – Col de la Croix Perrin (BD O/N Hostel 2 *) [4-6 hrs, +200-450m, -400m]
Transfer to Sure by chairlift where the crests of Autrans dominate the valley of Autrans and that of Lans-Villard. Continue to the Molière pasture, the largest of the "4 Mountains". The view is magnificent here: all the Alps are open to our eyes: no less than 7 massifs, including Belledonne, Taillefer, Chartreuse … In good weather, we can even see Mont Blanc!
We stop at the Col de la Croix Perrin, where we will appreciate the warm comfort of the 2 * Auberge de la Croix Perrin.
Day 5 Col de la Croix Perrin – Lans-en-Vercors (BD O/N 2 * hotel)
This route will allow us to go into another valley and discover the charm of the Villard de Lans valley. Descent via Cordelière then Bouilly before crossing the plain of Villard de Lans to Blanc. From there 2 options:
1) direct return to Lans en Vercors via the Suif forest. [4 hrs, +100m, -300m]
2) climb to Collet du Furon (1449 m) and descend to the village of Lans. [6-6.5 hrs, +500m, -700m]
Dinner and night in a 2 * hotel in Lans-en-Vercors
Day 6 Lans-en-Vercors – Le Moucherotte (BD O/N 2 * hotel) [4-6 hrs, +300-550m, -300-850m]
Transfer using the local bus (15 minutes) to the snow stadium of Lans-en-Vercors. From there, a gentle climb to the top of Moucherotte (1901 m), belvedere over the Alps. It is also possible to hike only to the top of the Croix des Ramées (1631 m). Return to the Snow Stadium or to Lans en Vercors by the Games.
Dinner and night in a 2 * hotel in Lans-en-Vercors.
Day 7 Lans-en-Vercors (B)
End of stay after breakfast.
We may have to modify the indicated itinerary: either at the level of the organization (problem of overload of the accommodations, duplication of the groups, modification of the state of the ground, landslides, degraded trails, etc.), or directly because of the guide (weather, group level, etc.). These modifications are always made in your interest, for your safety and for a better comfort!
7 Days Self-Guided Vercors natural park on snowshoes
Tour Code: EUR-FVNPS07-SG
LAND Price per person in SGD:
Price is subject to changes without prior notice.
Season:  Jan – Mar 2022
Min Departure: 02
Period (Year 2022)
2-5 Pax
6 & more
Single Supplement
03 Jan – 02 Feb, 6 – 13 Mar
1208
1158
+ 310
3 Feb – 5 Mar
1278
1218
+ 340
Additional night in a double room, half board
150 (Low Season)/ 170 (High Season) per person
Optional 5 picnics
130
Rental of snowshoes and poles
90
Lyon-saint Exupéry Airport (LYS) to Méaudre, Autrans-méaudre-en-vercors, France
est. total duration: 1h 26min

By Sedan (comparable in size to the Volkswagen Passat – up to 3 passengers): S$ 390
Van (comparable in size to the Mercedes Vito – up to 7 passengers): S$ 490
LAND Price includes
Half-Board Accommodation

Autrans transfer – Sure chairlift

The ascent by chairlift

The baggage transport

The travel file

Tourist taxes
Briefing before departure
40% discount for winter gears at X-Boundaries
Price excludes
All airfare & taxes
All  transfers except those mentioned in "includes"
Drinks

in Rousset en Vercors

Visits & Entrance fees
Personal gears
Expenses of a personal nature like laundry, phone calls, alcohol, beverages, cigarettes
Travel Insurance
Any costs arising out of unforeseen circumstances such as bad weather, landslides, road conditions and any other circumstances beyond our control.
Single supplement
Visa and Visa application fees
All those not mentioned in "the price includes"
More information
LEVEL
Easy to moderate: 3 to 6 hours of walking, 10 to 18 km and 300 to 600 m of vertical drop per day, on trails without technical difficulty. Hiking experience is desirable, but not essential. 
It should be noted that snowshoeing does not require any particular technique: acclimatization takes place during the day. The mentioned level therefore refers to your walking level.
For the more athletic, it is possible to lengthen the hikes to reach a level 3, a moderate level.
LUGGAGE TRANSFER
You only carry a small bag with your daily things and your picnic. You find your luggage every evening at the end of the stage. Your luggage is transported by vehicle. 1 follower bag per person limited to 15 kg.
ACCOMMODATION
You stay in comfortable hotels – very good 2 star hotels, 2 nights in 3 star hotels if available.
Hotel classification: In France, more and more hotels or guest houses refuse any classification, even establishments that were still classified one or two years ago. However, these establishments do not lose quality, far from it. Among the guest rooms, many are charming rooms.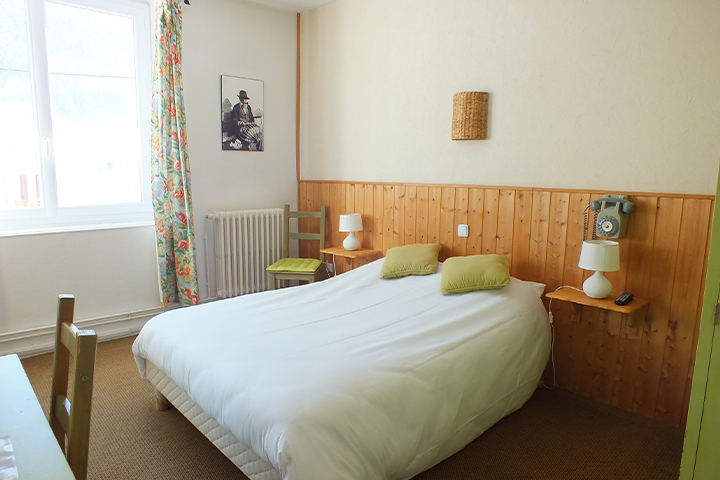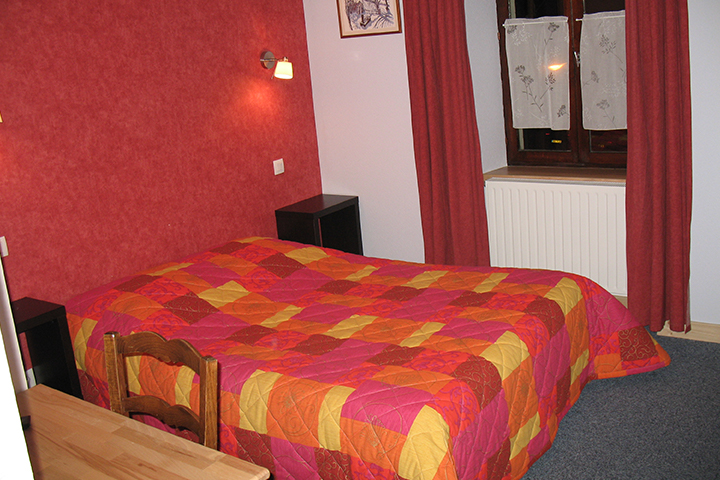 FOOD
Half-board – breakfasts and dinners served hot. Picnics are not included. You can usually order them the day before at your hotel, if you don't want to have them, at an additional cost. Please let us know when registering any food allergy or special diet; we will do our best to adapt your meals.
ORGANISATION: We are in charge
Accommodation reservation

Luggage transfers.

Detailed guidebook & briefing
The travel documents (1 set for 2-3 persons) include:

Detailed maps

Vouchers for the hotels

Topo Guide
Depending on the case, you will receive your file before departure, or you will find it at the first accommodation.
BOOKING
2 person minimum.
Duration: 7 days / 6 nights / 5 days of snowshoeing.
Departure period
Departure dates at your convenience, from early January to mid March.
The season is determined by the day of departure.
The snow cover in mid-mountain is sometimes uncertain. In the event of a lack of snow on certain parts of the route, we still ensure the departure of our stays. Remember to bring walking shoes.
Beginning End
► Start
Day 1 from 2 p.m. in Méaudre in front of the village post office or at the Hôtel de la Prairie for those arriving by car.
► End
Day 7 after breakfast in Lans en Vercors. However, the rooms must be vacated in the morning. You can take a bus from Lans en Vercors to Méaudre to collect your vehicle if necessary.
Equipment rental: Possible Loan of snowshoes, poles and pulkas

Extend your stay
You can extend your trip before or after the trek at Lans en Vercors on request.
DATES
At your convenience, Go with friends or family on the dates that suit you & friends. When you book the tour please give us one or two other departure dates in case your 1st choice is not possible.
Getting There
aA By train: SNCF https://www.oui.sncf/
By bus at www.transisere.fr
Many trains to Grenoble (TGV) from Paris Gare de Lyon, direct (about 3 hours) or via Lyon. Then, regular bus line for Autrans and Méaudre by Transisère coaches. The bus station is adjacent to the SNCF station Idem on the way back.
IF YOU ARRIVE BY PLANE
Lyon Saint-Exupéry airport is located an hour's drive from Grenoble. There is a daily bus service (one bus every hour): http://fr.ouibus.com/fr/franchise/bus-faure-ouibus-lyon
 A chartered vehicle will cost about S$ 390-$490 to Méaudre, Autrans-méaudre-en-vercors, France
est. total duration: 1h 26min
Each passenger is allowed to have one big luggage (29 x 21 x 11 inches) and one small luggage which shouldn't exceed 22 x 14 x 9 inches. Please, let us know in case you should have an oversized luggage and we will help you upgrade to a bigger car.
In your luggage
Equipment
Snowshoe equipment
– Loose, comfortable and warm walking clothing, including comfortable Goretex or micropore-type pants (avoid jeans!), Jumpsuit or knickers, jogging, etc.
– A large wool sweater or a fleece
jacket – A Goretex jacket, or a windbreaker letting the sweat pass if possible, or an adapted anorak
– An overpants
– Two pairs of warm mittens or warm gloves
– A hat, a scarf
– A pair of gaiters
– Warm underwear (Merino Wool)
– 3 pairs of warm socks
Shoes, poles and snowshoes
– A good pair of hiking shoes, not too flexible but warm and comfortable (no soft shoes like moon boots or sneakers), and waterproof
– We recommend the purchase of telescopic poles that will serve you both in winter for snowshoe hikes and summer for mountain hikes. It is better to take them in 3 telescopic parts rather than two, with a tungsten carbide tip, very hard and almost indestructible! (However we can lend you a pair)
– Snowshoes and poles are provided as well as pulkas (one pulka for 3 or 4 people)
Against the sun
– Sunglasses (glacier type)
– Sunscreen (lips and skin)
For the midday picnic
– Bowl, plate or plastic box
– Cutlery (spoon, fork, knife)
– Thermos flask minimum 1 liter (or better 1.5l)
After the effort
– A good sleeping bag + a foam mattress, Karrimat type (for the Igloo, the mattress)
– A survival blanket to better insulate yourself from the ground
– A camera with a protective cover against the cold
– A pair of jogging-style sneakers for the evening
– Change of clothes (outerwear, etc.), and personal linen
– Linen and toiletry bag, handkerchiefs and toilet paper. For the refuge, provide towels and mini-kit, because there is no water. However, we can
freshen up by melting the snow 
– A mini pharmacy kit with elastoplast, biogaze or "2nd skin", gauze, disinfectant and aspirin in case of minor injuries!
Baggage
– A comfortable 40 to 50 liter backpack to carry your personal belongings